In 2013 the Token Creek Chamber Music Festival – already known for eclectic programming in the intimate salon-like setting of our refurbished barn – branches out to explore the unfamiliar familiar, the spontaneous, and the dramatic.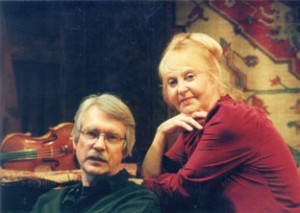 What composer is more beloved and performed than Mozart? Yet he was in the habit of leaving pieces unfinished, to be taken up later. Could they be recovered, "new" Mozart works that add to our sense of his prolific variety.
And what popular song composer has written pieces more standard than Harry Warren? But might there be some of his songs as alluring as "I Only Have Eyes for You," seldom heard beyond our enterprising festival?
And after last summer when we invoked the Bard, can we bring Shakespeare to the fore with an entire evening devoted to his lore?
Improvisation is our motto this year: in jazz, in Mozart completions and conventions, in the underplay of incidental music to Shakespeare, and in concert performances from our welcome guests, Open End.
In a program of spellbinding originality and high and low drama, we are excited to introduce Token Creek 2013!


John and Rose Mary Harbison
Artistic Directors