TWENTY-NINTH SEASON
Harvest
patience, risk, abundance, variety
August 25 ‐ September 2, 2018
---
Photography by John Schaffer: Flowers of the Token Creek Festival Garden, Summer 2016.
2018 Artists
---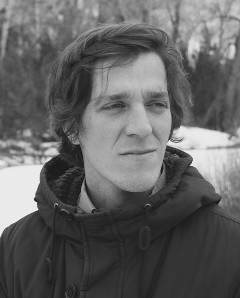 A native of the Boston area, cellist Mark Bridges received the bachelor's degree from Boston University, where he studied with David Soyer and Leslie Parnas. As a chamber musician he has performed with members of the Borodin, Muir, and Pro Arte String Quartets, attended the Juilliard String Quartet Seminar and the Banff Centre Chamber Music Residency, and has performed several times on the CBC and WPR for "Sunday Afternoon Live from the Chazen." He is a core member of Madison's Willy Street Chamber Players.
Mark holds an MM degree from the Eastman School of Music, where he studied with Steven Doane, and earned an Orchestral Studies Diploma during which he was a section cellist with the Rochester Philharmonic Orchestra. Currently he is a section cellist with the Madison Symphony Orchestra.
Mark is the recipient of the Daniel Gregg Myers, Dorothea Schmidt nee Boller awards and the Bernard Milofsky travel award from the University of Wisconsin, where he studied with Uri Vardi. A former adjunct cello teacher at the University of Wisconsin-Platteville, he runs a private cello studio in Madison and is heavily involved in chamber music coachings at the Wisconsin Youth Symphony Orchestra.
Mark is a member of the duo High Plains with Vancouver-based electronic musician Scott Morgan; they released their debut LP CInderland in March of 2017 on Kranky. He has been the recipient of artistic residencies at the Banff Centre and the Brush Creek Foundation for the Arts. (Photo: Scott Morgan) (WEBSITE)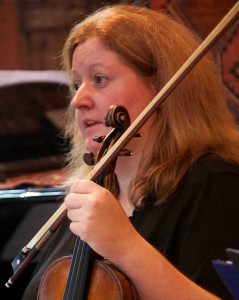 Laura Burns, violin, is a member of the Madison Symphony Orchestra, where she also performs with the Rhapsodie String Quartet, part of the Madison Symphony's Heartstrings initiative that brings live interactive music programs to adults and children with disabilities. Laura Burns is an active performer in the Madison area, performing with the Wisconsin Chamber Orchestra, LunArt Festival, Mosaic Chamber Players, Duo Penumbra, and Quartessence. In addition to her performing, Laura is an advocate of music education. She has taught studio violin, chamber music and conducted orchestras in both public and private education settings, including her current position as string specialist at Edgewood College. In addition to performing and teaching, Laura has served as president of the Independent String Teachers of Madison and president of the Wisconsin Chapter of the American String Teachers Association. Ms. Burns holds Bachelor and Master of Music degrees in violin performance from the University of Wisconsin, Madison. Her teachers include David Perry and Tyrone Greive.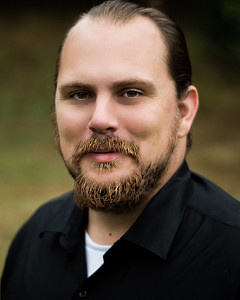 Baritone Ryne Cherry is an opera, oratorio, and ensemble singer based in Boston, MA, whose opera roles include the Forester in Janáček's The Cunning Little Vixen, Mustafa in Rossini's L'italiana in Algeri, the Pirate King in The Pirates of Penzance, Tomsky in The Queen of Spades, Belcore in L'elisir d'amore, Olin Blitch in Susanna, and Mr. Ford in The Merry Wives of Windsor. Recent concert performances include the Requiems of Mozart and Duruflé, Rossini's Petite Messe solennelle, and Carissimi's Jepthe. Premieres include Dominick DiOrio's opera The Little Blue One, Keith Kusterer's chamber piece Echelon, Nazaykinskaya's opera The Magic Mirror, and Kallembach's oratorio The Tryal of Father Christmas. Mr. Cherry was a Tanglewood Music Center Vocal Fellow in 2016 and 2017 and returned this summer to appear in the TMC production of Leonard Bernstein's A Quiet Place as Sam. His 2017-18 season included performances of Handel's Messiah and Beethoven's 9th with the Handel & Haydn Society, Beethoven's Fidelio with Boston Baroque, as multiple supporting characters in Weill's Threepenny Opera with Boston Lyric. (Photo: Ethan Dupuy) (WEBSITE)
Seattle bassist Ross Gilliland performs with the North Corner Chamber Orchestra and serves as Principal Bass with Seattle Modern Orchestra, Northwest Symphony Orchestra, and Saratoga Chamber Orchestra, and he recently joined the Maui Chamber Orchestra. A Madison native, he played with the Madison Symphony Orchestra, Wisconsin Chamber Orchestra, Token Creek Chamber Music Festival, Bach Dancing and Dynamite Society, and Madison Bach Musicians. He continues to play electric bass with his touring ska band. Mr. Gilliland holds undergraduate degrees in music and physics, and a master's degree in public policy. He served on the staff of President Obama's Council on Environmental Quality, was Director of Evaluation and Analytics for Equal Opportunity Schools, and was named a Strategic Data Fellow through Harvard University's Center for Education Policy Research. He works at Third Sector Intelligence in Seattle, specializing in delivering business intelligence and program evaluation services to public sector organizations, philanthropies, and not-for-profits.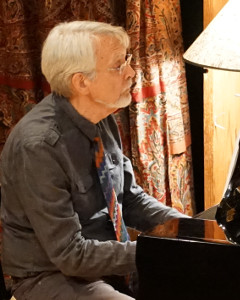 Composer John Harbison is among America's most distinguished artistic figures. The recipient of numerous awards and honors, among them a MacArthur and a Pulitzer, Harbison has composed music for most of America's premiere musical institutions, including the Metropolitan Opera, Chicago Symphony, Boston Symphony, New York Philharmonic, and the Chamber Music Society of Lincoln Center. His catalog includes three operas, six symphonies, twelve concerti, a ballet, six string quartets, numerous song cycles and chamber works, and a large body of sacred music that includes cantatas, motets, and the orchestral-choral works Four Psalms, Requiem and Abraham. His music is widely recorded on leading labels. Harbison's busy summer included Bach cantata residencies at Songfest and Tanglewood, composer residencies at the new music festivals June in Buffalo and the Bowdoin International Music Festival, and the premieres of Serenade, for violin solo (Great Lakes Chamber Music Festival) and Nocturne, for piano (Network for New Music). First performances in the 2018-2019 season include, in October, the monodrama If, From a Distance (for Boston Musica Viva, Santa Fe Chamber Music Festival, and the Chamber Music Society of Lincoln Center) and the organ symphony What Do We Make of Bach?, for a consortium anchored by the Minnesota Orchestra and the Seattle Symphony. His new Viola Sonata, for a consortium organized by Pro Arte Quartet violist Sally Chisholm, generously funded by an anonymous commissioner, will have its first performance in February, in Madison. Harbison's first book, a volume of essays on Bach, has just been published.
Harbison has been composer-in-residence with the Pittsburgh Symphony, the Los Angeles Philharmonic, the American Academy in Rome, and numerous festivals. He received degrees from Harvard and Princeton before joining the Massachusetts Institute of Technology, where he is currently Institute Professor. For many summers since 1984 he taught composition at Tanglewood, serving as head of the composition program there from 2005-2015, often also directing its Festival of Contemporary Music. With Rose Mary Harbison, the inspiration for many of his violin works, he has been co-Artistic Director of the annual Token Creek Chamber Music Festival since its founding in 1989. He continues as principal guest conductor at Emmanuel Music (where for three years he served as Acting Artistic Director). Active as a jazz pianist, Harbison founded MIT's Vocal Jazz Ensemble in 2010, for which he served as coach and arranger, and he is pianist with the faculty jazz group Strength in Numbers (SIN). In these roles he is adding to his large catalogue of pop-songs and jazz arrangements.
Harbison was President of the Copland Fund for fifteen years, and a trustee of the American Academy in Rome. He is a member of the American Academy of Arts and Letters and is a Trustee of the Bogliasco Foundation. His music is published exclusively by Associated Music Publishers. (WEBSITE)
Violinist Rose Mary Harbison is co-artistic director of the Token Creek Festival. She has appeared as soloist with the St. Paul Chamber Orchestra and the Oakland, Milwaukee, and Pittsburgh symphonies, and been guest artist with the Santa Fe, Aspen, Tanglewood, and Berlin Festivals. Recital partners include Leonard Stein, Judith Gordon, Ursula Oppens, Robert Levin, and Eli Kalman. She has worked with many composers, among them Aaron Copland and Roger Sessions. Harbison founded, with violinist Rudolph Kolisch, the Kolisch Ensemble, and she continues to advocate for his performance practice. For many decades she collaborated with the late W. Jack Fry, professor of physics at UW-Madison, in his groundbreaking research into the acoustical properties of the world's finest violins. Harbison is a founding member of Emmanuel Music, Boston, where she regularly performed in Bach cantatas and chamber music programs. She taught at Brandeis University and MIT, and was named a Scholar at the Radcliffe Institute.
Frank Kelley sings a wide variety of music throughout North America and Europe. He has performed many roles with the Odyssey Opera, Boston Lyric Opera, Opera Boston, Florentine Opera, Opera Theater of St. Louis, and the San Francisco Opera Company, and has appeared at the Gran Teatre del Liceu in Barcelona, the Theatre de la Monnaie in Brussels, The Frankfurt Opera, Opera de Monte Carlo, Dallas Opera, Nashville Opera, and in the Peter Sellars productions of Die Sieben Todsünden, Das Kleine Mahagonny, Cosi fan tutte, and Le nozze di Figaro. The Mozart operas were recorded by Decca and Austrian Public Television, and were broadcast on PBS's Great Performances. They are available on London DVD as is Weill's Die Sieben Todsünden. His recording of Elmer Gantry, with the Florentine Opera Company and the Milwaukee Symphony for Naxos records, has won two Grammy awards including best original composition. The most recent recording, Carlisle Floyd's Wuthering Heights, (Florentine Opera and Milwaukee Symphony) has been highly acclaimed. In concert performances Mr. Kelley has sung with the Boston Symphony Orchestra, the Cleveland Orchestra, the Chicago Symphony Orchestra, the National Symphony, the Dallas Symphony, the St. Paul Chamber Orchestra, Orquesta Sinfónica Nacional, Orquesta Sinfónica de Mineria, and the Orchestra of St. Luke's. He has performed medieval and renaissance music with Sequentia, the Boston Camerata, and the Waverly Consort, and he performs baroque music with the Handel and Haydn Society, Boston Baroque, Emmanuel Music, Music of the Baroque, and Aston Magna. Mr. Kelley has participated in the Blossom Festival, the Tanglewood Festival, Ravinia Festival, Marlboro Music Festival, Pepsico Summerfare, the New England Bach Festival, Next Wave Festival, Wexford Festival Opera, and the Boston Early Music Festival. He has recorded for Naxos, London, Decca, Erato, Harmonia Mundi France, Teldec, Telarc, Koch International, Deutsche Harmonia Mundi, and Centaur.
Mr. Kelley has directed productions for the Florentine Opera (Elmer Gantry, 2015) and for Odyssey Opera (Patience, 2017).
A resident of Boston, Mr. Kelley sings there regularly with Emmanuel Music, both in the ongoing series which presents the complete Bach cantatas and in special projects, including the complete piano/vocal works of Beethoven, Schumann and Brahms, Schubert lieder, Don Giovanni, Alcina, The Magic Flute, The St. John Passion, The Rake's Progress, Susanna, Die Schöne Müllerin and Dichterliebe with Russell Sherman, Die Sieben Todsünden, and most recently, The St. Matthew Passion. (Photo: Kendra Colton) (WEBSITE)
The Kepler Quartet was formed in 2002 by violinists Sharan Leventhal and Eric Segnitz, violist Brek Renzelman and 'cellist Karl Lavine to record the complete microtonal string quartets of composer Ben Johnston. (WEBSITE)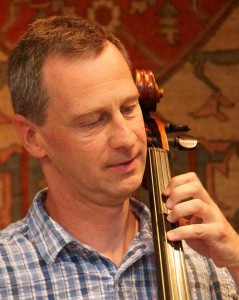 Karl Lavine is the principal 'cellist of both the Madison Symphony and the Wisconsin Chamber Orchestra. He has freelanced and worked as a grant writer in New York City, toured Europe and Canada as a member of the Kandisky Trio, and performed an 18-month European tour of West Side Story. From 1999 to 2009 he served as the 'cellist for Present Music, and continues to perform regularly with John Harbison's Token Creek Festival. Mr. Lavine has held faculty positions at Iowa's Luther College, Illinois Wesleyan University, the University of Wisconsin-Whitewater and the National String Workshop. Lavine also maintains an active private teaching studio in Madison, WI, and is Director of the Chamber Music Program for the Wisconsin Youth Symphony Orchestra.
Violinist Sharan Leventhal has toured four continents as a soloist, chamber musician and teacher. Since winning the Kranischsteiner Musikpreis at the 1984 International Contemporary Music Festival in Darmstadt, Germany, she has built an international reputation as a champion of contemporary music, and has garnered 30 grants and awards  from such institutions as the NEA, Aaron Copland Fund for Music Recording, Chamber Music America, New Music USA, and the Fromm and Koussevitzky foundations. Her more than 130 premieres include works by Gunther Schuller, Ben Johnston, Virgil Thomson, William Kraft, Pauline Oliveros, Tania León, Simon Bainbridge, Scott Wheeler, Matt Aucoin, and Fred Hersch. Leventhal has appeared as a soloist with numerous orchestras, is a founding member of the Gramercy Trio, the Kepler Quartet, and Marimolin, and appears regularly with the Boston Artists Ensemble. She can be heard on the New World, Northeastern, Newport Classic, Naxos, Navona, GM and Catalyst labels, and has recorded broadcasts for the BBC, ORF (Austria), Musikradion (Sweden), WGBH-Boston, and WNYC. Leventhal teaches at Boston Conservatory at Berklee, Berklee College of Music, and has served on the faculties of Brandeis University and Michigan State University. During the 1990s she taught regularly at the Bruckner-Konservatorium in Linz, Austria. Known for her detailed approach to effortless playing and injury prevention, she has successfully helped numerous players suffering from tendonitis, nerve damage and other playing related injuries. Summer teaching has included the Wintergreen Summer Music Festival, FOOSA (Fresno, CA), Interlochen Arts Camp, and The Asian Youth Orchestra in Hong Kong. Leventhal has served as chamber music editor for the American String Teachers Association's publication (AST), as chair of the national Studio Committee, and as president of the Massachusetts chapter. She continues to be an active member of the MA-ASTA board, and presents regularly at ASTA's annual national conference. Leventhal is the founder and director of Play On, Inc., a non-profit organization dedicated to promoting active participation in music making. Her music blog is titled, Just tuning In. (Photo: Claudia Hansen) (WEBSITE)
Violist Jennifer Clare Paulson is a member of the Madison Symphony and has held positions in the Civic Orchestra of Chicago (where conductors included Daniel Barenboim, Pierre Boulez, and John Adams), Elgin Symphony Orchestra, the former Green Bay Symphony, and the Northwest Indiana Symphony Orchestra. She holds degrees in viola and jazz performance from the University of Wisconsin-Madison, Northwestern University, and Augustana College. During her doctoral studies she was a member of UW-Madison's graduate Hunt Quartet, coached by members of the Pro Arte Quartet. Paulson is a member of several contemporary music groups based in Chicago including Kyle Bruckmann's WRACK and Ken Vandermark's Audio One. With those groups she has appeared at distinguished jazz venues in Chicago, including the Hyde Park Jazz Fest and the Green Mill ‐ and internationally, at the Victoriaville Jazz Festival and Ulrichsberger Kaleidophon. She also plays locally with bluegrass band Milkhouse Radio and Graminy, an acoustic ensemble that draws on classical, folk and bluegrass traditions. She teaches at Madison Music Foundry, repairs instruments at Spruce Tree Music, and is also an accomplished player of the Japanese koto. (WEBSITE)
When honoring him with its Goddard Lieberson Fellowship, the American Academy of Arts and Letters noted that "A rare economy of means and a strain of religious mysticism distinguish the music of James Primosch… through articulate, transparent textures, he creates a wide range of musical emotion."
Born in Cleveland, Ohio in 1956, James Primosch studied at Cleveland State University, the University of Pennsylvania, and Columbia University. He counts Mario Davidovsky, George Crumb and Richard Wernick among his principal teachers. A fellowship to the Tanglewood Music Center led to study with John Harbison.
Primosch's instrumental, vocal, and electronic works have been performed throughout the United States and in Europe by such ensembles as the Los Angeles Philharmonic, the St. Paul Chamber Orchestra, Collage, the New York New Music Ensemble, and the 21st Century Consort. Commissioned works by Primosch have been premiered by the Chicago Symphony, the Albany Symphony, Speculum Musicae, and the Cantata Singers.
Among the honors he has received are a grant from the National Endowment for the Arts, a Guggenheim Fellowship, three prizes from the American Academy of Arts and Letters, a Regional Artists Fellowship to the American Academy in Rome, a Pew Fellowship in the Arts, and the Stoeger Prize of the Chamber Music Society of Lincoln Center. Recordings of twenty compositions by Primosch have been released on CD.
James Primosch is also active as a pianist, particularly in the realm of contemporary music. He was a prizewinner at the Gaudeamus Interpreters Competition in Rotterdam, and appears on recordings for New World, CRI, the Smithsonian Collection (re-released on Innova), and Crystal Records. A student of Lambert Orkis and Andrius Kuprevicius, he has performed at Lincoln Center and the Kennedy Center and has worked as a jazz pianist and a liturgical musician.
Since 1988 he has served on the faculty of the University of Pennsylvania, where he directs the Presser Electronic Music Studio. (Photo: Deborah Boardman) (WEBSITE)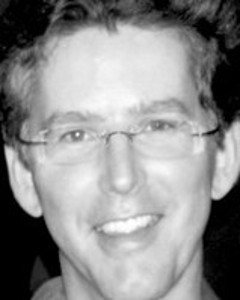 Brek Renzelman, violist with the Kepler Quartet, has had years of experience as a freelance violist working in a variety of ensembles, from ballet to opera to symphony to chamber and to a wide range of collaborative styles. Upon graduation from Indiana University with the Artist Diploma, he was named the assistant principal violist with the Milwaukee Symphony Orchestra for the 1985-1986 season. After his next orchestral assignment in the viola section of the Atlanta Symphony, Renzelman decided to return to Milwaukee, where he served as the violist with Present Music from 1992 to 2010. In his freelance career, Mr. Renzelman has recorded with international soloists, acted as principal violist for the Milwaukee Chamber Orchestra, and performed in the Milwaukee Symphony viola section in long and short-term stints during the past two decades. He is also currently devoting time to social activism, and the publication of his first book.
Eric Segnitz is a violinist, a composer/arranger, and a charter member of the Milwaukee, WI-based new music ensemble Present Music. His composition credits include plays, television, film and concert works (published by Hal Leonard). Mr. Segnitz's producing credits include work for the Albany, NorthEastern, LML, Dargason, Narada, Innova and New World labels. Orchestral experience includes many years of service for the Milwaukee Symphony, and he can be heard as a soloist on two recent premiere recordings: Todo Buenos Aires by John Adams/Astor Piazzola [Albany], and the Kamran Ince violin concerto In White [Innova]. He has shepherded the Kepler Quartet's Ben Johnston quartet-cycle project since 2002 as both producer and second violinist.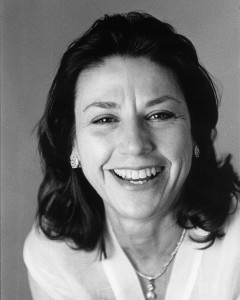 Janice Weber's New York recital debut, performed under the pseudonym Lily von Ballmoos, was an early indication of the eclecticism and fluency for which she has become known.
A summa cum laude graduate of the Eastman School of Music, Miss Weber has performed at the White House, Carnegie Hall, Wigmore Hall, National Gallery of Art, and Boston's Symphony Hall. She has appeared with the Boston Pops, Chautauqua Symphony, New Jersey Symphony, Hilton Head Orchestra, Sarajevo Philharmonic, and Syracuse Symphony in concertos of Hanson, Sowerby, Stenhammar, Bernstein, and Leroy Anderson as well as the standard repertoire. She has performed at the Bard, Newport, La Gesse, Husum, and Monadnock summer festivals and has twice toured China under the auspices of the American Liszt Society.
Her interest in the uncommon avenues of the piano literature led to a world premiere recording of Liszt's 1838 Transcendental Etudes. Time Magazine noted, "Liszt later simplified these pieces into the still ferociously difficult Transcendental Etudes (1852 version) for fear that no one else could play them. There may now be several fire-eating piano virtuosos who can execute the original notes, but few can liberate the prophetic music they contain as masterfully as Janice Weber does here."
Her eclectic recordings include Rachmaninoff's complete transcriptions (IMP); with the Lydian Quartet, Leo Ornstein's vast Piano Quintet (New World Records); flute and piano works of Sigfrid Karg-Elert; and waltz transcriptions of Godowsky, Rosenthal, and Friedman (IMP). For VAI, Miss Weber recorded Liszt's last Hungarian Rhapsody, one of only two living pianists to be included in a compendium of historic performances by nineteen legendary artists. This disc subsequently won the International Liszt Prize. A 2002 recording of Leo Ornstein's radical piano works (Naxos) received significant acclaim here and abroad. Her best-selling recording of Messiaen's Quartet for the End of Time is available on Ongaku Records. A Cascade of Roses (Dorian Records), includes 22 tracks with "rose" in each title. Seascapes, a collection of virtuoso water music, was recently named one of "Ten Notable 2015 Piano Releases" in critic Jed Distler's influential keyboard blog. Her recording (with the late Judith Kellock) of Ross Lee Finney's Chamber Music will soon be released by Cambria.
A member of the piano faculty at the Boston Conservatory, she has also taught at MIT, Brandeis, and New England Conservatory. She has produced the tones for Ivory, the worldwide bestselling virtual piano software. She is a Steinway artist. (Photo: Liz Linder) (WEBSITE)
Recognized by The Boston Globe as "a name to keep an eye on," and noted for possessing "a stunning, subtle kind of expressive power," soprano Sarah Yanovitch is a graduate of the Early Music Voice program through the Yale Institute of Sacred Music. Ms. Yanovitch is a frequent soloist with Handel and Haydn Society and artistic director Harry Christophers. She made her solo debut at Tanglewood with H+H last summer singing Purcell's Fairy Queen, and will sing the role of Belinda in Purcell's Dido and Aeneas with Christophers later this season. In demand as both a soloist and chamber musician, Sarah recently made her debuts with Bach Collegium San Diego, The Thirteen, and Seraphic Fire. Other recent and upcoming solo engagements include Bach's Mass in B minor with Masaaki Suzuki and Juilliard 415 and with Back Bay Chorale next spring, BWV 179 with Harry Christophers and H+H, Bach's Christmas Oratorio with Emmanuel Music, Handel's Judas Maccabaeus and Mozart's Mass in C minor at Boston University with conductor Scott Allen Jarrett, and BWV 80 with the Virginia Symphony. During her time at Yale, Ms. Yanovitch worked closely with esteemed conductors Masaaki Suzuki, David Hill, and Simon Carrington, touring as a soloist throughout Italy, France, The Baltics, India, and the UK. (WEBSITE)