Necessary Music
TWENTY-EIGHTH SEASON
August 26 ‐ September 3, 2017
---
Photograph of Andrée Valley's sculpture by Bob Graebner.
2017 Artists
---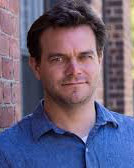 Charles Blandy has been praised as "unfailingly, tirelessly lyrical" (Boston Globe); "a versatile tenor with agility, endless breath, and vigorous high notes" (Goldberg Early Music Magazine); and possessing "a clear, focused, gorgeous tenor voice" (Worcester Telegram and Gazette).
In 2017 he sings the Evangelist in Bach's St. Matthew Passion, with Emmanuel Music. He is a regular part of their ongoing Bach Cantata series. He will appear with Orchestra Iowa in Bach's Mass in B minor; and appeared with Music of the Baroque in Mozart's "Great" C minor Mass; and the B minor Mass with the Apollo Chorus of Chicago.
Recent performances include Handel's Messiah with Saint Paul Chamber Orchestra; the role of Belmonte in Mozart's Abduction from the Seraglio with Emmanuel Music; Monteverdi's Il Ritorno d'Ulisse, Vespers of 1610, L'Orfeo, and works from the 8th book of madrigals with Boston Early Music Festival; Mozart's Requiem with True Concord at Lincoln Center in New York; Bach's B minor Mass with the American Classical Orchestra (NYC), also at Lincoln Center; and St. Matthew Passion with the American Bach Soloists (SF, CA). He has also appeared with the Bach Choir of Bethlehem, Handel and Haydn Society, Boston Baroque, Charlotte Symphony, Berkshire Choral Festival, and Pittsburgh Bach and Baroque.
He appears on three new CD releases: Virgil Thomson's Four Saints in Three Acts with Boston Modern Orchestra Project; J.C.F Fischer's Vespers of 1701 with Exsultemus and Newton Baroque; and sacred music of Ross Lee Finney with the Harvard University Choir.
In opera he was recently heard in John Harbison's The Great Gatsby; as Tom Rakewell in Stravinsky's The Rake's Progress; Tamino in Mozart's Magic Flute; Lurcanio in Handel's Ariodante; and Almaviva in Rossini's Barber of Seville.
In contemporary music, he premiered Rodney Lister's chamber song cycle Friendly Fire with Collage New Music; appears on Boston Modern Orchestra Project's new CD of Virgil Thomson's Four Saints in Three Acts, and gave the US premiere of Rautavaara's song cycle Die Liebenden.
In recital, he has performed Schubert and Brahms with Boston Chamber Music Society; Janacek and Finzi at Monadnock Music (NH); and his recital of Rachmaninoff, Liszt, and Szymanowski was called "one of the most engrossing concerts in ages." He gave recitals of modern American music in New York, Boston, London and Manchester UK, with pianist/composer Rodney Lister.
He is the product of a strong public school arts program in Troy, NY; and graduated from Oberlin College with a BA in religion. He received his Master's Degree from Indiana University. Further training was at Tanglewood, where he was awarded the Grace B. Jackson prize for excellence; and at the Britten-Pears School in Aldeburgh UK. (WEBSITE)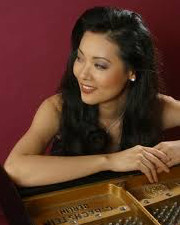 Acclaimed by critics in the United States and abroad for performances of stunning virtuosity, refinement and communicative power, Ya-Fei Chuang's international appearances include the Berlin Radio Symphony, the Boston Philharmonic, the City of Birmingham Symphony, the Israel Symphony, the Malaysian Philharmonic, and the Tokyo Metropolitan Symphony Orchestra; performances at the Berlin Philharmonie and Schauspielhaus Berlin, the Gewandhaus Leipzig, London's Queen Elisabeth Hall, Boston's Symphony Hall, National Concert Hall in Taipei, and Suntory Hall in Tokyo. She has performed at numerous international festivals, including the Beethoven Festival (Warsaw), the European Music Festival (Stuttgart), the Musikfest Stuttgart, the Bach Festival (Leipzig), the Taipei International Music Festival, the Ruhr Piano Festival (numerous appearances), and the festivals of Schleswig- Holstein, Gilmore, Ravinia, Sarasota, and Tanglewood. She performs frequently with the Spectrum Ensemble Berlin (Germany), and has appeared in duo performances with Noah Bendix-Balgley, Martin Chalifour, Alban Gerhardt, Kim Kashkashian, Mark Kosower, Gabriel Lipkind, and is a frequent partner with Steven Isserlis and Robert Levin. Ya-Fei Chuang has appeared at the International Music Sessions in Prussia Cove, England, and with the New York Philomusica. Appearances in recent seasons include the festivals of Verbier, Ruhr, Oregon Bach, Nevada, the Mozartwoche in Salzburg, the Mozart Festival in Cluj-Napoca, Romania, and in Boston, New York, San Francisco, Argentina, Austria, Brazil, Hong Kong, Taiwan, Tokyo, Jerusalem, Tel Aviv, and at the International Grieg Piano Competition in Norway (where she was a member of the jury in the 2014 and 2016 competitions).
Performances on fortepiano include Boston Baroque, Handel & Haydn Society, the Orchestra of the Age of Enlightenment, Philharmonia Baroque, and Concerto Köln. She has recorded for ECM, Harmonia Mundi, Naxos, and New York Philomusica Records.
The Ruhr Festival has released several of her live recordings, including a solo album distributed as a premium of Fono Forum Magazine. Reviewing her live recording of the Mendelssohn Piano Concerto No.1, Fanfare Magazine hailed her "delicacy and fluidity of touch … this version now sits at the top of the pile of Mendelssohn Firsts, alongside Perahia, [Rudolf] Serkin, and John Ogdon." Her recording of Hindemith chamber works was awarded a special prize by the International Record Review.
Upcoming CD releases include all-Liszt and all-Chopin recordings, as well as the complete piano solo works by Ravel for Le Palais des Dégustateurs, to be released worldwide on Harmonia Mundi. Reviewing her recent solo recital in Boston in The Boston Musical Intelligencer, Mark DeVoto wrote, "Ya-Fei Chuang carries Chopin's banner today equally with the best of those whose names are more world-famous ‐ I think of Vladimir Ashkenazy, Garrick Ohlsson, and Idil Biret."
Ya-Fei Chuang's mastery of the most challenging solo and chamber repertoire is complemented by her commitment to contemporary music. She has given the world premieres of works by John Harbison, Stanley Walden, Thomas Oboe Lee, and Pulitzer prizewinner Yehudi Wyner. She is on the faculty of the Boston Conservatory in Boston and gives master classes throughout the United States, Europe, and Asia, and an annual two week master class at the International Summer Academy at Mozarteum in Salzburg.
Pianist Dr. Alison d'Amato is passionately engaged as performer and teacher in the full spectrum of collaborative musical genres, particularly skilled in song and text-based genres. She is Artistic Co-Director of Florestan Recital Project, Assistant Professor of Vocal Coaching at Eastman School of Music, Lecturer in Voice at University at Buffalo, and this year joined the faculty of ArtsBridge in their flagship Artsong summer intensive. In all these activities, she is dedicated to energizing the relationships and communication inherent in music and bringing students' love for music to the forefront of their projects. Dr. d'Amato has developed several projects that explore interdisciplinary collaborations and new approaches to the performer-audience relationship. She is a Program Director of Art Song Lab, which presents new works in collaboration with composers, poets, and performers. With Boston's Museum of Fine Arts, she is developing a Leonard Bernstein program for "Composers in Words and Song," the newest in a Florestan series that presents audio-biographical programs incorporating songs and read correspondence from throughout a composer's life. Recent recording projects include The Complete Songs of Virgil Thomson (New World Records), and Music for Violin and Piano by Joseph Achron with violinist Michael Ludwig (Naxos).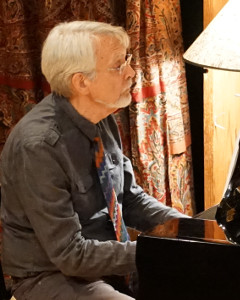 Composer John Harbison is among America's most distinguished artistic figures. The recipient of numerous awards and honors, among them a MacArthur and a Pulitzer, Harbison has composed music for most of America's premiere musical institutions, including the Metropolitan Opera, Chicago Symphony, Boston Symphony, New York Philharmonic, and the Chamber Music Society of Lincoln Center. His catalog includes three operas, six symphonies, twelve concerti, a ballet, six string quartets, numerous song cycles and chamber works, and a large body of sacred music that includes cantatas, motets, and the orchestral-choral works Four Psalms, Requiem and Abraham. His music is widely recorded on leading labels.
Recent premieres include Psalm 116 (Chanticleer), String Quartet No. 6 (Lark Quartet & Fromm Players, Tanglewood), Presences (cello and string quintet), A Bag of Tales (codas for piano), The Cross of Snow (in versions for both viols/countertenor and string quartet/mezzo), The Nine Rasas (clarinet, viola and piano), and Painting the Floors Blue (for violinist Jennifer Koh).
In May Harbison's opera The Great Gatsby, a commission from the Metropolitan Opera, was revived at Semperoper Dresden, after the European premiere of a new production there last year, following performances in New York, Chicago, San Francisco, Aspen, Boston and Tanglewood.
Current composition projects include the monodrama If, From a Distance (for Boston Musica Viva, Santa Fe Chamber Music Festival, and the Chamber Music Society of Lincoln Center), and the organ symphony What Do We Make of Bach, for a consortium anchored by the Minnesota Orchestra and the Seattle Symphony, with a companion volume of essays on Bach.
Harbison has been composer-in-residence with the Pittsburgh Symphony, the Los Angeles Philharmonic, the American Academy in Rome, and numerous festivals. He received degrees from Harvard and Princeton before joining the Massachusetts Institute of Technology, where he is currently Institute Professor. For many summers since 1984 he taught composition at Tanglewood, serving as head of the composition program there from 2005-2015, often also directing its Festival of Contemporary Music. With Rose Mary Harbison, the inspiration for many of his violin works, he has been co-Artistic Director of the annual Token Creek Chamber Music Festival since it's founding in 1989. He continues as principal guest conductor at Emmanuel Music (where for three years he served as Acting Artistic Director). Active as a jazz pianist, Harbison founded MITs Vocal Jazz Ensemble in 2010, for which he served as coach and arranger, and he is pianist with the faculty jazz group Strength in Numbers (SIN). In these roles he is adding to his large catalogue of pop-songs and jazz arrangements.
Harbison was President of the Copland Fund for fifteen years, and a trustee of the American Academy in Rome. He is a member of the American Academy of Arts and Letters and is a Trustee of the Bogliasco Foundation. His music is published exclusively by Associated Music Publishers.
Violinist Rose Mary Harbison is co-artistic director of the Token Creek Festival. She has appeared as soloist with the St. Paul Chamber Orchestra and the Oakland, Milwaukee, and Pittsburgh symphonies, and been guest artist with the Santa Fe, Aspen, Tanglewood, and Berlin Festivals. Recital partners include Leonard Stein, Judith Gordon, Ursula Oppens, Robert Levin, and Eli Kalman. She has worked with many composers, among them Aaron Copland and Roger Sessions. Harbison founded, with violinist Rudolph Kolisch, the Kolisch Ensemble, and she continues to advocate for his performance practice. For many decades she collaborated with the late W. Jack Fry, professor of physics at UW-Madison, in his groundbreaking research into the acoustical properties of the world's finest violins. Harbison is a founding member of Emmanuel Music, Boston, where she regularly performed in Bach cantatas and chamber music programs. She taught at Brandeis University and MIT, and was named a Scholar at the Radcliffe Institute.
Dawn Lawler is an active performer and teacher in the Madison area. In addition to running a private studio, she plays regularly with both the Madison Symphony Orchestra and the Wisconsin Chamber Orchestra. She has served as a Lecturer in Flute at UW Madison, UW Platteville, Beloit College, and Ripon College. Ms. Lawler was a semifinalist in the 2006 NFA Young Artist Competition, as well as a prizewinner of the 2004 James Pappoutsakis Memorial Solo Flute Competition in Boston.
Blakeley Menghini is a DMA candidate at UW-Madison, where she studies viola with Sally Chisholm. Blakeley serves as the violist of UW-Madison's Hunt Quartet, where she is able to share her love of music with elementary students across the Madison region through the Madison Symphony Orchestra's Up Close and Musical program. During her time at UW-Madison, she has performed in masterclasses with Nobuko Imai, Laurie Smukler, and the St. Lawrence Quartet. In 2017, she began teaching at Beloit College, as an adjunct professor of Viola. She also teaches privately and in an after-school outreach program. Blakeley received a Bachelor of Arts degree in Viola Performance from Greenville University in 2011, where she studied with Victoria Voumard. She then studied with Tony Devroye and the Avalon Quartet as she earned her Master of Music degree and Performance Certificate in Viola from Northern Illinois University in 2014. After her graduate program, Blakeley then spent a year teaching private violin, viola, and piano lessons in public schools, private schools, and her home in southern Illinois. She also taught at Greenville College, where she directed the GC Chamber Orchestra and served as adjunct professor of Violin and Viola. In addition, she designed and taught a Music History and Appreciation course at the Lahr-Well Academy in Edwardsville, IL.
Linda Osborn has performed extensively across the United States and in Europe as both a chamber/orchestral musician and vocal accompanist. Her partnership has been recognized as "thoroughly satisfying, colorful and supportive" by the Los Angeles Times, with "an impressive ability to speak powerfully in both the softest and the loudest extremes of the piano's dynamic spectrum" by the Washington Post. Performance highlights include appearances at the Rose Studio at Lincoln Center, the Kennedy Center, Bargemusic, St. John's College in Cambridge, England, Chicago Opera Theatre and the Salle Garnier in Monte Carlo. Ms. Osborn currently serves as Artistic Administrator and Company Pianist for Odyssey Opera of Boston and is principal pianist for the Boston Modern Orchestra Project. She has premiered new works for The New Gallery Concert Series, WordSong, Florestan Recital Project, and Composers in Red Sneakers. Her work can be heard on a number of recordings, most recently on a new release of the complete songs of Virgil Thomson with the Florestan Recital Project (New World Records 2016).
Kyle Barrett Price, Artistic Director and Founder of the Caroga Lake Music Festival, is a summa cum laude graduate of the Cleveland Institute of Music receiving a Bachelor of Music degree in cello performance under the tutelage of Merry Peckham. As a soloist, Mr. Price was named a winner in the 2015 Yamaha Young Performing Artists Competition, finalist in the 2015 G. Gershwin International Music Competition and semi-finalist in the 2016 Naftzger Young Artist Competition.
He studied chamber music at the Chamber Music Connection and has attended numerous prestigious music festivals. Recently, he studied with Zuill Bailey and Melissa Kraut at Sitka Cello Seminar. A medalist in the Saint Paul String Quartet Competition, Mr. Price was featured on NPR's From the Top! radio show and has recorded with artist Alyson Stoner. Mr. Price has also received acclaim for his composition Requiem in memory of his aunt, cellist Constance E. Barrett and his work Serenade, premiered by the Calidore String Quartet and the Chamber Music Connection this past winter. Mr. Price recently completed the master of music degree from the University of Wisconsin-Madison, and is currently working toward the Doctorate of Music under the mentorship of Uri Vardi.
Kyle founded the Caroga Lake Music Festival in 2012 at the age of 19 and has developed the festival into a noteworthy national music festival bringing in over twenty highly accomplished artists hailing from the U.S. and abroad. Kyle, a resident of Worthington, Ohio, has vacationed with his family at the Caroga Lake house of his Grandmother (Joyce Barrett) since he was an infant. He often mentioned the idea of creating a chamber music festival in the area. This idea became a reality in the summer of 2012. Then in July 2016, Kyle founded the Caroga Arts Collective, a 501c3 not-for-profit organization which acts as an umbrella for the Caroga Lake Music Festival, and other projects (Sherman's Center for Collaborative Arts and Education). The Caroga Arts Collective's mission is in reigniting the Caroga experience through interdisciplinary and inter-arts collaborations among musicians, artists, scholars, and their communities.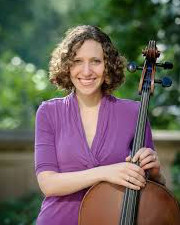 Sara Sitzer, a native of St. Louis, Missouri, leads a varied life as an orchestral, chamber, and solo cellist. Currently a member of the New World Symphony in Miami Beach, Florida, she has also served as section and principal cellist of the Tanglewood Music Center Orchestra, Aspen Conducting Academy Orchestra, Pacific Music Festival Orchestra, Madison Symphony, and Madison Opera and Ballet. She has performed with the Boston Symphony Orchestra and is a substitute for the Milwaukee Symphony Orchestra. Each summer, Ms. Sitzer travels to the Blue Ridge Mountains of Virginia to perform with the Wintergreen Festival Orchestra and play chamber music with the other musicians of the Wintergreen Music Festival.
As a soloist and chamber musician, Ms. Sitzer has performed all over the world, from the new Frank Gehry designed New World Center in Miami Beach to the Hermitage Museum in Saint Petersburg, Russia. Her performing career has taken her to Israel, Japan, Russia, as well as throughout the United States. This year, she will serve as Artistic Director of a new chamber music festival for emerging artists in Saint Louis.
A proponent of bringing music into the community, Ms. Sitzer was a member of the HeartStrings String Quartet, a group dedicated to using live classical performances as a means of music therapy. With HeartStrings, she toured to various hospitals, nursing homes, and centers for people with disabilities. Outreach remains an important part of Ms. Sitzer's career; she frequently gives free performances and arts education presentations to schools, adult education centers, and underserved communities.
Ms. Sitzer served as cello teacher at the Belvoir Terrace Performing Arts Camp in Lenox, Massachusetts, and has assisted with the Intensive Community Program of the Greater Boston Youth Symphony Orchestras and taught chamber music through the Performing Arts School of Worcester, Massachusetts, and the Wisconsin Youth Orchestras. She also holds a private studio of her own.
Ms. Sitzer holds a Master of Music Degree from the University of Wisconsin, where she attended on a Collins Fellowship. She received her Bachelor of Music degree from Boston University as a Trustee Scholar. Her principal teachers have included Uri Vardi, Michael Reynolds, Andres Diaz, Ken Kulosa and Glenda Piek.(Website)
Active in various ways within Madison's music scene, Jeffrey Stanek is the primary pianist for the UW-Madison Dance Department and the Monona Academy of Dance, as well as Lakeview Moravian Community Church. He is completing a masters degree in piano pedagogy and performance at UW-Madison, where he is a student of Jessica Johnson and a teaching assistant in music theory. He teaches lessons privately and through the school's Piano Pioneers program. For five years, he directed the VSA Choir of Madison for people with disabilities.
Recent performance highlights include Somei Satoh's The Heavenly Spheres are Illuminated by Lights, with Chelsie Propst and James McKenzie, in the planetarium of the Milwaukee Public Music as part of Present Music's 2016-17 season; Steve Reich's Music for 18 Musicians at UW-Madison; and a masterclass with Nadia Boulanger protégé Emile Naoumoff. Jeff is a past winner of the Madison Symphony Orchestra, Wisconsin Youth Symphony Orchestra, and Birch Creek Music Center concerto competitions.
He graduated with high distinction from Indiana University, studying composition and piano. He's been a composer fellow at The MacDowell Colony, Tanglewood Music Center, and the Virginia Center for Creative Arts, and a recipient of national awards from ASCAP, BMI, the National Federation of Music Clubs, and the CEMJKO International Electroacoustic Music Prize.