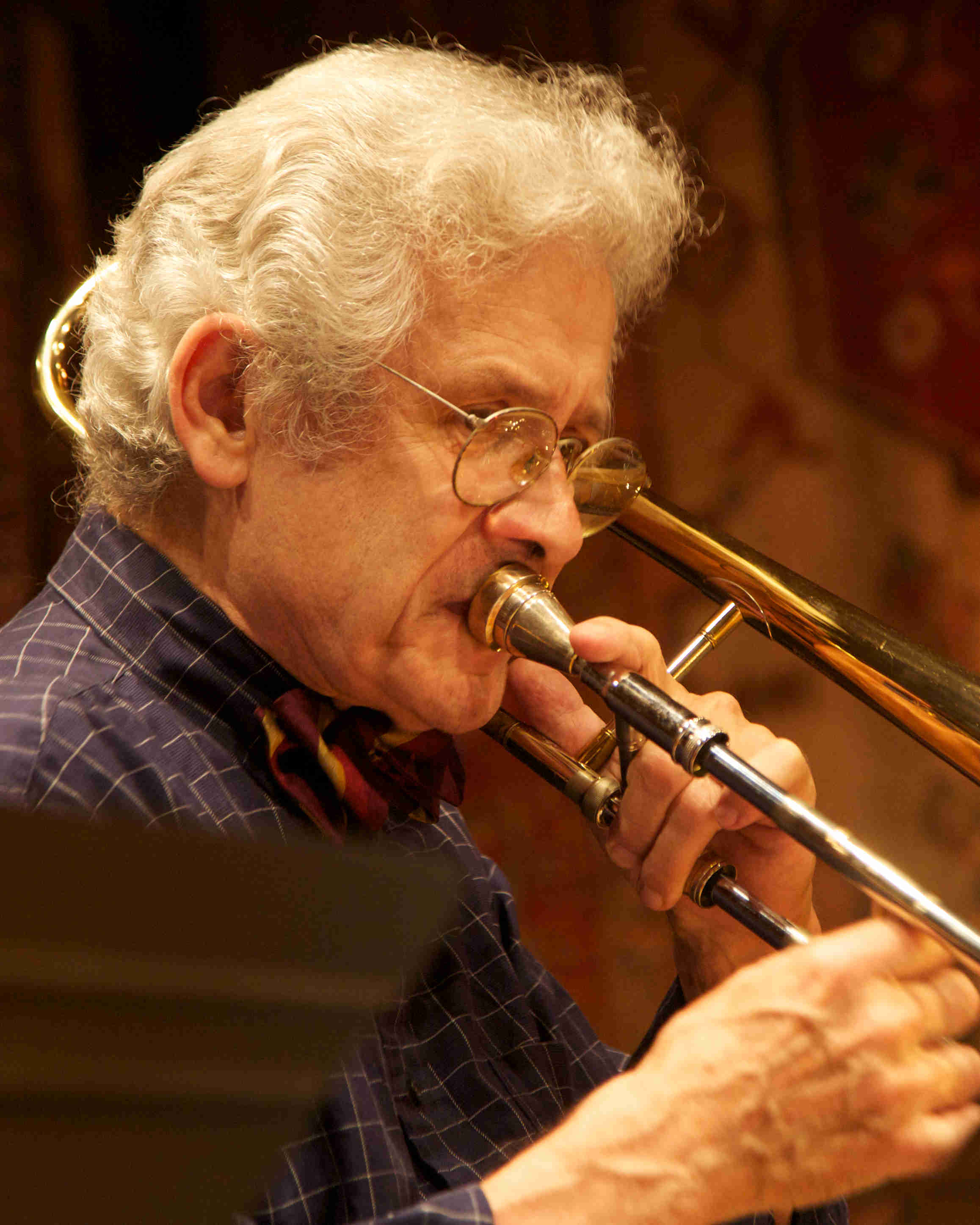 Tom Artin began playing jazz in junior high school in a band organized by the now-celebrated American composer John Harbison, known as the "Harbison Heptet." He has played throughout the United States and Europe with a number of world-renowned jazz groups including the Smithsonian Jazz Repertory Ensemble (1981-84), the Louis Armstrong Alumni All-Stars, the World of Jelly Roll Morton, the World's Greatest Jazz Band, and Wild Bill Davison. Tom played lead trombone in Mel Tormé's big band, recorded live at Michael's Pub in New York, and has played with Bob Wilber's Benny Goodman revival big band. Festival credits include Kool Jazz in New York and Baltimore, the Illinois Jazz Festival, the North Carolina Jazz Festival, the Atlanta Jazz Party, the Guinness Jazz Festival in Ireland, the Floating Jazz Festival aboard the S.S. Norway, The Lugano Jazz Festival and the Ascona Jazz Festival, both in Switzerland.
For about five years Tom was the house trombonist at Eddie Condon's in New York, having inherited the seat of the great Vic Dickenson. In 1994, he performed at the White House for the annual Christmas Congressional Ball, and in 1999, he appeared as guest artist at Rome's celebrated jazz club Alexanderplatz. In the summer of 2006, Tom appeared as guest artist with composer John Harbison at the Token Creek Festival. He has played on movie and television soundtracks and appears on numerous recordings.
In recent years, Tom has toured for Columbia Artists with Ed Polcer and the Eddie Condon All-Stars. He leads his own sixteen-piece TomCats Jazz Aces swing band, as well as the traditional jazz band Satchmo & Co, and Standard Brass, an adventurous seven-piece jazz ensemble for which he has written novel arrangements of jazz standards and classics from the Great American Songbook. Tom is founder and president of Artin Arts, a creative entertainment company representing over twenty jazz and classical groups and solo artists.